MEMBER ACHIEVEMENTS


UNITED TECHNOLOGIES DELIVERS TOYS FOR TOTS FOR THE 36TH CONSECUTIVE YEAR


December 5, 2016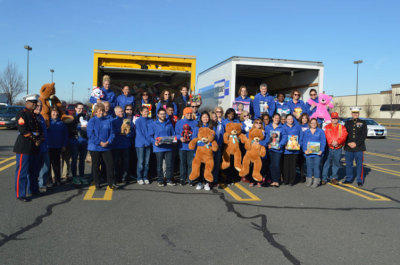 Dozens of United Technologies Corporation (UTC) employee volunteers gathered to purchase, load and deliver thousands of gifts for the Toys for Tots program of the U.S. Marines Corps Reserve. Over 36 years, UTC has donated more than half-a-million toys to Toys for Tots to help less fortunate families throughout central Connecticut. Volunteers shopped for children's gifts at two Toys "R" Us locations in Newington and Manchester, then loaded and delivered their donations to the U.S. Marine Corps Reserve, Company C, headquarters in Plainville. UTC's donations make up over half of the total number of toys the Plainville Marines give to families and non-profit organizations in Hartford and Tolland counties. UTC is traditionally the largest corporate provider of toys to the Marine Reserve's Plainville program.
Photo credit: United Technologies Corporation
---
SOLECT ENERGY ANNOUNCES EXPANSION TO CONNECTICUT


November 29, 2016
Massachusetts solar company hires Director of Business Development to lead company's expansion into The Constitution State

HOPKINTON, MA – Solect Energy, the leading full-service commercial-scale solar company in Massachusetts, announced today that the company is expanding its business into the state of Connecticut. The company recently expanded its operations and maintenance services, and will now pursue new projects—in addition to those in Massachusetts and Rhode Island—as a licensed Connecticut solar provider.

"We are excited to take on this new venture and pursue the opportunities that lay ahead for solar energy in Connecticut," said Craig Huntley, Chief Development Officer and Co-Founder of Solect Energy. "Connecticut has seen tremendous growth in solar energy in the past four years, and is expected to continue that growth over the next several years and beyond. We are proud to play a part in the solar efforts of Connecticut and help the state's businesses, municipalities and nonprofit organizations reduce energy costs through solar energy."

At the forefront of Solect's expansion into Connecticut will be Kent McCord, recently hired as Director of Business Development at Solect Energy. Based in Granby, McCord has 15 years of experience in the renewable and alternative energy market. Prior to joining the Solect team, McCord was Director of Sales and Marketing at Doosan Fuel Cell, a leading manufacturer of fuel cell combined-heat-and-power (CHP) systems in South Windsor, CT. Kent's project development expertise includes all types of CHP solutions, waste-heat-to-electricity systems, and commercial solar solutions.

"I am thrilled to serve the Connecticut area as Director of Business Development for Solect Energy," said McCord. "Connecticut has among the highest electricity costs in the country, and solar is a great way for building owners to reduce utility costs while making their own renewable energy. With a strong Renewable Energy Credit (REC) program and attractive financing available from the CT Green Bank, commercial rooftop solar systems are a smart investment in our state."

Connecticut has installed 265 megawatts (MW) of solar energy, ranking it 17th in the country for installed solar capacity—and this momentum is only projected to continue. The state is committed to a goal of 20% renewable energy by 2020, and is expected to install an additional 900 MW over the next five years.

The state's Zero Emission Renewable Energy Credit (ZREC) program has been the prime driver of the commercial solar market in Connecticut, providing a fifteen-year revenue stream for owners of solar energy systems, in addition to the value of reduced utility bills. The CT Green Bank also has numerous innovative financing solutions based on the successful Commercial Property Assessed Clean Energy (C-PACE) program. The C-PACE program helps businesses and municipalities access affordable financing for renewable energy systems. It offers no upfront costs to upgrade your building, 20 year funding, no payoff upon sale, and the ability to share costs and benefits with any tenants you may have. The program has significantly helped commercial properties decrease their energy costs, making going solar in Connecticut all the more attractive.

As Massachusetts ranked sixth for installed solar capacity last year with 1,199 MW installed, it is one of the country's leaders in solar energy. The state was also ranked second for number of solar jobs with 15,095—second to California. With its C-PACE program and upward solar trend, Connecticut is on track to benefit in similar ways, both on a state level through enhanced employment rates and economic growth, and at the individual business level through reduced operating costs and energy price stability.
---
BLUMSHAPIRO RECOGNIZED FOR EXEMPLARY WORKPLACE PRACTICES


June 22, 2016
WEST HARTFORD – – BlumShapiro, the largest regional business advisory firm based in New England, today announced it has been honored with a 2016 When Work Works Award for its use of effective workplace strategies to increase business and employee success.
This prestigious award, part of the national When Work Works project administered by the Families and Work Institute (FWI) and the Society for Human Resource Management (SHRM), recognizes employers of all sizes and types in New England and across the country.
"BlumShapiro's culture supports employee health, well-being and engagement both in the workplace and in their personal lives," said Joseph A. Kask, chief executive officer of BlumShapiro. "Developing and retaining a best-in-class organization is a top priority at BlumShapiro. Our job is to ensure they have the knowledge and skills, plus the necessary mentoring and training to unlock their true potential. We are committed to providing our employees with opportunities for growth and helping them advance their careers in an environment that treats everyone equally, while respecting diversity."
The award is the result of a rigorous assessment. Worksites must first qualify by ranking in the top 20 percent of the country based on a nationally representative sample of employers. Two-thirds of the evaluation of applicants comes from an employee survey. Applicants are evaluated on six research-based ingredients of an effective workplace: opportunities for learning; a culture of trust; work/life fit; supervisor support for work success; autonomy; and satisfaction with earnings, benefits and opportunities for advancement — all factors associated with employee health, well-being and engagement.
"These employers have excelled at creating effective workplaces yielding tremendously positive results for business success, as well as for their employees' well-being and productivity," said Ellen Galinsky, president of FWI. "Effective workplaces recognize that employees are an organization's greatest resource and make a critical difference in the organization's ability to not only survive, but to thrive."
"The 2016 When Work Works Award winners confirm that leading employers are continuing the movement toward effective workplace strategies that benefit both business and employees," said Lisa Horn, director of SHRM's workplace flexibility initiative. "These innovative strategies are what sets these organizations apart, allowing them to attract and retain top talent, giving them a competitive advantage."
For more information about the When Work Works initiative and the When Work Works Award, visit www.whenworkworks.org.

---
DANIELS ENERGY CELEBRATES 90 YEARS


April 13, 2016
Portland, CT, On an early April morning in 1926, Sicilian native Dominick Daniele decided to give up selling hats and leave his other business - delivering messages - behind. He turned the lock on a small building on Airline Avenue in Portland and with his partner Mr. Scripo opened the doors to Daniels & Scripo Coal & Wood.

For the next twenty years they served thousands of homeowners in Central Connecticut, and as their business grew they made the decision to move to Main Street in Middletown in early 1942. The war years were tough, but they preserved and grew the business into a thriving operation.

After the war, Dominick's son Sebastian joined the operation, starting with the simplest tasks and working his way up to driver and then manager. In early 1950s, The Scripos moved to Florida and Sebastian made the decision to sell the coal business to concentrate on delivering heating oil from their Middletown location.

The 1950's and 60's brought real estate development in Connecticut and hundreds of new customers requiring a move into larger headquarters on Rapallo Avenue in Middletown. Sebastian's sons, David, Barry and Robert joined the business as teenagers, starting at the very bottom. Sweeping. "We were going to learn the business from the ground up," says David Daniels.

By the early 1980's the business had grown larger and needed a new location, which they found just across the river in Portland. As the need to diversify intensified, Bob and David, now managing the operation on a daily basis decided to add an extensive propane operation, including the installation of storage tanks adjacent to Route 9 in Middletown.

At the dawn of the 21st century, David's son John joined the operation - sweeping - and learning every detail of a business that now had grown to serving thousands of customers in 25 towns with heating oil, propane, heating and cooling sales and service and the rare natural gas conversion. Along the way the third and fourth generation Daniels family has held steady to the business acumen that Dominic embraced on the first day in business, "give good service at a fair price to everyone and treat them like family." It has proven to be a singular philosophy of success.
---
CITIZENS BANK ANNOUNCES $62,500 IN CONTRIBUTIONS TO CONNECTICUT ORGANIZATIONS THROUGH THE CITIZENS HELPING CITIZENS MANAGE MONEY INITIATIVE


Contributions part the bank's 2016 commitment to deliver financial education to consumers and small businesses




April 6, 2016
Hartford, CT- As part of an ongoing commitment to give consumers the confidence and tools they need to be fiscally healthy, Citizens Bank announced today that nine nonprofit organizations in Connecticut will receive $62,500 in contributions as part of the Citizens Helping Citizens Manage Money financial literacy initiative.

Leveraging the financial expertise of its bankers and its partnerships with local nonprofits focused on financial education, the Citizens Helping Citizens Manage Money program this year includes $1.3 million in donations to 77 nonprofits and volunteer outreach by more than 400 trained Citizens colleagues. Citizens will also be sharing financial tips on Facebook and Twitter for the duration of National Financial Literacy Month, as well as ongoing financial advice from Citizens' colleagues on YouTube. By the end of 2016, Citizens Helping Citizens Manage Money is expected to improve the financial acumen of more than 220,000 Americans.


Nonprofit organizations from across the bank's 11-state footprint were chosen in a competitive application process based on their track record of success providing financial education programs, clear and measurable goals for the program and a demonstration to incorporate sustainability in their program plans.

Connecticut funding recipients include:

• Community Economic Development Fund Foundation Inc.
• New Haven HomeOwnership Center
• Women's Business Development Council
• Connecticut Association for Human Services
• Urban League of Southern Connecticut
• Junior Achievement of Southwest New England
• Marrakech, Inc.
• Thames River Community Service, Inc.
• United Way of Central and Northeastern Connecticut

About Citizens Financial Group, Inc.
Citizens Financial Group, Inc. is one of the nation's oldest and largest financial institutions, with $138.2 billion in assets as of December 31, 2015. Headquartered in Providence, Rhode Island, Citizens offers a broad range of retail and commercial banking products and services to individuals, small businesses, middle‐market companies, large corporations and institutions. In Consumer Banking, Citizens helps its retail customers "bank better" with mobile and online banking and the convenience of approximately 3,200 ATMs and approximately 1,200 Citizens Bank branches in 11 states in the New England, Mid‐Atlantic and Midwest regions. Citizens also provides mortgage lending, auto lending, student lending and commercial banking services in select markets nationwide. In Commercial Banking, Citizens offers corporate, institutional and not‐for‐profit clients a full range of wholesale banking products and services including lending and deposits, capital markets, treasury services, foreign exchange and interest hedging, leasing and asset finance, specialty finance and trade finance. Citizens operates through its subsidiaries Citizens Bank, N.A., and Citizens Bank of Pennsylvania as Citizens Bank, Citizens Commercial Banking and Citizens One. Additional information about Citizens and its full line of products and services can be found at www.citizensbank.com.
---
WATERFORD HOTEL GROUP HONORS KRISTEN PIKULA AND DAN MILLER DURING ANNUAL LEADERSHIP CONFERENCE


April 4, 2016
Photo caption: (L-R) Len Wolman, Chairman of Waterford Group; Kristen Pikula, General Manager and Dan Miller, Director of Sales of Courtyard Cromwell; and, Robert Winchester, President of Waterford Hotel Group
Waterford, CT, Waterford Hotel Group honored Kristen Pikula as General Manager of the Year and Dan Miller as Director of Sales of the Year during the company's recent Annual Leadership Conference and Awards Celebration. Pikula and Miller both work at the Courtyard by Marriott in Cromwell, CT, one of the 25 properties professionally managed by Waterford Hotel Group, a national hotel and convention center management company.

"Kristen is a true leader and exemplifies what it means to be a manager in the hospitality industry," commented Rob Winchester, President and COO for Waterford Hotel Group. "The perfect complement to her leadership is Dan. He continues to bring the sales team to success time and time again."

Waterford Hotel Group's 2016 annual leadership conference celebrated the company's 30th Anniversary as well as the top performers from the past year. Nearly 80 managers and associates attended the two day conference at the Courtyard by Marriott in Cromwell, CT. The annual conference provides attendees with important informational sessions and a forum to share ideas for the future and celebrate the successes of the past year. The conference also celebrated the company's 10th Anniversary of its Waterford Group Charitable Foundation. Since its formation, Waterford associates have raised in excess of $1 million.

About Waterford Hotel Group
Waterford Hotel Group is one of the nation's leading hotel and convention center management companies. The company operates 25 properties in 7 states, representing 3,330 total rooms and 630,000 square feet of meeting and convention space. The collective expertise of the team and track record of success has earned Waterford distinction as an approved operator for the leading hotel brands. Whether the involvement begins at conception or during operation, Waterford Hotel Group strives for successful performance and profitability of each managed property, while maintaining the highest standards of quality, service, and cleanliness. For more information, visit www.waterfordhotelgroup.com.
---
CONNECT COMPUTER PURCHASES SMALL TO MEDIUM SIZED BUSINESS SERVICE CONTRACTS IN ROCKY HILL:


ESTABLISHES NEW OFFICE IN CENTRAL CONNECTICUT, DOUBLES SPACE IN FAIRFIELD




March 28, 2016
Fairfield, CT, Fairfield-based information technology company CONNECT Computer has acquired a number of service contracts and customers from the former IGX Global Support, growing its existing base of small to medium sized businesses served. Five IGX employees from the Rocky Hill office have also joined CONNECT. This asset purchase is part of a notable growth trajectory for CONNECT Computer. The company will be expanding its presence in the Central Connecticut market in addition to doubling its office space in Fairfield.
"We're very excited about the growth of our company, which we believe is fueled by a strong culture of outstanding customer service," says Lynn M. Souza, President & CEO of CONNECT Computer. "For over three decades now, we've been dedicated to the small and medium-sized businesses that make up the majority of Connecticut's commerce. We understand their dynamic technology needs, and we're very proactive in helping them keep pace, which can be challenging for smaller businesses."
CONNECT has recently re-signed its lease at 338 Commerce Drive in Fairfield for the next five years and will shortly be doubling its space at this location. "We have a long history at this location, and it's a very convenient hub from which to serve our New York metropolitan area client base. We're excited to be expanding our footprint with the new space in Rocky Hill, and growing our presence in the central region of Connecticut," Souza adds.
The business contracts CONNECT has purchased were former clients of IGX Global and Foresite Technologies. Tracy Fox, former Sr. Account Manager for IGX Global, responded to the event by saying, "Congratulations CONNECT Computer and the former Foresite Technologies' clients. You are in great hands with Lynn and her team." Lynn Souza has spent the last several weeks traveling to visit with the new CONNECT customers, and says, "We are looking forward to helping our new clients maintain their technology networks to the highest standards, and introducing them to the comprehensive IT products and services we provide."
---
VISTA CELEBRATES HISTORIC DESIGNATION OF WESTBROOK CAMPUS


March 24, 2016
Pictured from left in the back row are state Sen. Art Linares, state Rep. Devin Carney, Deborah Rei from the Westbrook Historical Society, Vista Facilities Manager Bob Keefe, and Jane Montanaro from the CT Trust for Historic Preservation. Front row left to right are Cathy Doane from the Westbrook Historical Society, Westbrook First Selectman Noel Bishop, and Vista CEO Helen Bosch.
Westbrook, CT, Vista's Dormitory and Residence Hall, known officially as the Capt. Joseph W. Spencer House, on Thursday became the first non-municipal building in town to receive a historic designation plaque from the Westbrook Historical Society.

State and local officials gathered at Vista's Westbrook Campus Thursday morning in celebration of this milestone. Vista leadership was joined by Westbrook First Selectman Noel Bishop, Westbrook state Sen. Art Linares (R-33) and Westbrook state Rep. Devin Carney (R-23). Representatives from the Westbrook Historical Society and the Connecticut Trust For Historic Preservation were also in attendance.

Located at 1356 Old Clinton Road, the home was built circa 1850 by Capt. Joseph Whittlesey Spencer, builder and commander of the "David Crockett," a Yankee clipper ship. Today, the Spencer House is home to more than 26 students in Vista's program. It received historic designation from the state in 2013.

As a result of the historic designation, Vista became eligible for and was awarded a $200,000 matching grant from the State Historic Preservation Office. This grant has enabled Vista to carry out the first phase of a planned three-phase renovation project at the Westbrook Campus. The first phase of renovations broke ground last spring and involved turning a staff room into two bedrooms with a shared ADA-compliant bathroom. Four existing bedrooms and their shared bathrooms were also upgraded.

The historic designation plaque was purchased through the Westbrook Historical Society, which is working with the town to establish an official historic district. Buildings that are at least 100 years old are eligible for a plaque. Order forms are available at the Westbrook Historical Society museum, 1196 Boston Post Road, or the Westbrook Public Library, 61 Goodspeed Drive.

Vista Life Innovations is a 501©3 nonprofit organization. Vista's mission is to provide services and resources to assist individuals with disabilities achieve personal success. For more information about Vista, please visit www.vistalifeinnovations.org.
---
FARRELL, GEENTY, SHEELEY, BOCCALATTE & GUARINO NAME ATTORNEY KELLY S. THERRIEN AS PARTNER


FEBRUARY 26, 2016
Farell, Geenty, Sheeley, Boccalatte & Guarino announced that Attorney Kelly S. Therrien has become a partner with the firm. Attorney Therrien practices law in the areas of divorce, custody, guardianship and juvenile matters.
---
LIBERTY BANK FOUNDATION AWARDS GRANT TO KLINGBERG FAMILY CENTERS
Marzena Bukowski and Chandler Howard, of Liberty Bank, pose with two Raymond Hill School employees.
February 18, 2016


NEW BRITAIN — The Liberty Bank Foundation has awarded a $5,000 grant to Klingberg Family Centers to support a vocational education program for special needs/at-risk students attending Raymond Hill School in New Britain. The grant was presented by Chandler Howard, president and CEO of Liberty Bank and the Liberty Bank Foundation.

"This program fits well within our foundation's focus on education that leads to economic success," said Howard. "By offering hands-on work experience in a supportive environment, Klingberg is enabling students to gain practical life skills that will help them succeed in the workforce."

David Tompkins, Vice President of Klingberg Family Centers, was present to accept the grant. "We are grateful to the Liberty Bank Foundation for their support of this program," he said. "These funds will allow us to enhance the opportunities we provide for our students to gain essential job skills and work experience."

Founded in 1903, Klingberg Family Centers is a private, nonprofit multi-service agency providing help to thousands of persons across Connecticut each year through twenty distinct programs besides Raymond Hill School. Klingberg's mission is to extend hope and healing to children and families whose lives have been traumatized by abuse and/or neglect in its various forms, severe family problems, and mental health issues. Klingberg's main campus is located in New Britain, Connecticut, with an additional location in Hartford. For more information about Klingberg Family Centers, visit www.klingberg.org.

Since its inception in 1997, the Liberty Bank Foundation has awarded over $9.4 million in grants to nonprofit organizations within Liberty Bank's market area. The foundation seeks to improve the quality of life for people of low or moderate income by investing in three areas: education to promote economic success for children and families; affordable housing; and nonprofit capacity building. Along with its grantmaking, the foundation strives to foster the convening and collaboration of nonprofits, funders, business, and government to address community issues.

Established in 1825, Liberty Bank is Connecticut's oldest mutual bank, with more than $4 billion in assets and 55 banking offices throughout the central, eastern, and shoreline areas of the state. As a full-service financial institution, Liberty offers consumer and commercial banking, home mortgages, insurance, and investment services. Named as a "Top Workplace" by the Hartford Courant for four consecutive years, Liberty maintains a longstanding commitment to superior personal service and unparalleled community involvement.
---
CHAMBER MEMBERS EMPLOY MIDDLETOWN YOUTH THROUGH JOB'S INITIATIVE




February 1, 2016




The Middlesex County Chamber of Commerce's youth job's program expands year- round due to the state legislature funding providing the expansion of the local youth employment program. The program provides valuable skills to area youth by providing them part-time jobs year round. State Representative Matt Lesser appeared at a ceremony the presentation of a $40,000 check along with area business that participate in the program by providing employment to youth including One MacDonough Place, Remax Edge, and The Middlesex YMCA.



From the left to right: Program Director at One MacDonough Place David Frankel, Administrative Assistant at Remax Edge Suzanne Kucharski, a student who completed the jobs program Deivon Albrincoles, Northern Middlesex YMCA director of membership services Sue Dionne; state Rep. Matt Lesser, North End Action Team community organizer Elena Villafana, and Lorenzo Marshall of the Middlesex County Workforce Programs/Substance Abuse Council.
---
May, Bonee & Walsh Insurance Services Recognized for 10 Years in Renaissance Alliance
Membership signifies quality, innovation and choice
Glastonbury, CT – At its recent Annual Meeting, Renaissance Alliance Insurance Services recognized Glastonbury CT insurance agency May, Bonee & Walsh on the anniversary of its 10 years' membership in the Alliance. Renaissance Alliance is New England's premier network of independent insurance agencies.
Of the recognition, Bruce Cochrane, President of Renaissance Alliance, says, "We're very proud to have a decade-long partnership with May, Bonee and Walsh, a highly innovative agency spearheaded by true industry leaders." Cochrane adds that Renaissance Alliance recruits and extends membership to only the most forward-looking and progressive agencies that are poised for growth and committed to impeccable standards of personalized client service and industry excellence.
Speaking for May, Bonee & Walsh, partner Augusto Russell says, "We're so pleased to be recognized with this award. It's been a great partnership, one that affords us access to dozens of new insurers whose services we can bring to our clients. We've been honored to be among this coalition of New England's top-tier insurance firms."
Renaissance Alliance members maintain full autonomy as independent agencies. Membership means access to additional insurers, innovative insurance products, specialized marketing expertise and proprietary specialty programs. Cochrane states, "Member agencies secure the clout, economies of scale, services, expertise, and market access of a very large regional organization while still delivering the trusted, local personalized service that has been the hallmark of the independent agency system for generations."

---
STERLING REALTORS CELEBRATES 30 YEARS IN BUSINESS
December 22, 2015
Chamber President Larry McHugh and Sterling Realtors President Jackie Williams celebrate Sterling's 30 years in business at the company's 2015 Christmas Gathering on Tuesday, December 22nd.
---
THE CENTRAL ON MAIN STREET HOLDS IT'S 100 BIRTHDAY CELEBRATION
November 12, 2015
Chairman Vincent Capece announced that a 100th Birthday Celebration for The Central on Main Street in Middletown as held on Thursday, November 12, 2015. The grand old building at 363 Main Street is also known as the Webster Bank Building with a rear entrance at 134 Broad Street. Chamber President Larry McHugh noted, "The classic building at 363 Main Street is a real gem, and I enjoyed celebrating its centennial with city dignitaries and its current owners."
Built in 1915, The Central is considered to be one of the first modern office buildings in the city of Middletown. The building takes its name after The Central National Bank, in business from 1865 to 1955. The Central was later the home of Hartford National Bank and now currently houses Webster Bank on Main Street.
Chamber President Larry McHugh, Amato's Toy & Hobby Diane Gervais, Middletown Mayor Dan Drew, Commercial Realtor Trevor Davis, Chamber Central Business Bureau Chairman Tom Byrne

---
PAMELA ROOSE SPECIALTY HAND KNITS HOLDS 5TH ANNIVERSARY CELEBRATION


November 12, 2015


Chairman Vincent Capece of the Middlesex County Chamber of Commerce announced that a Fifth Anniversary Celebration was held for Pamela Roose Specialty Hand Knits & Yarn on Court Street in Middletown on Thursday, November 12, 2015. Chamber President Larry McHugh noted, "Pam Steele was a graduate of our very successful Side Street to Main Street Business and Leadership Development Program and does a great job with her business. We congratulate her on five successful years with more to come."
Chamber Workforce Program Director Lorenzo Marshall, Chamber President Larry McHugh, Chamber Central Business Bureau Chairman Tom Byrne, Pam Steele of Pamela Roose Specialty Hand Knits & Yarn, Chamber Side Street to Main Street Business & Leadership Development Program Jennifer De Kine, Middletown Economic Development Specialist Thomas Marano

---
Farrell, Geenty, Sheeley, Boccalatte & Guarino, P.C. in Middletown hosted a celebration in honor of their 30 terrific years in business
October 1, 2015

Chamber President Larry McHugh noted, "Farrell, Geenty, Sheeley, Boccalatte & Guarino, P.C. has been, and continues to be, a strong Middletown business, a strong chamber member, and a strong corporate citizen. We appreciate their commitment to Middletown and their support of our chamber."
Top: Richard S. Sheeley
Middle: Jason L. Lewellyn and Kelly S. Therrien
1st row: Middletown Small Business Development Center Counselor Paul Dodge, Elizabeth N. Byrne, Susan Perrin Geenty, John L. Boccalatte, Chamber President Larry McHugh
---
Dozens of United Technologies Corporation (UTC) employee volunteers gathered to purchase, load and deliver thousands of gifts for the Toys for Tots program of the U.S. Marines Corps Reserve. Over 36 years, UTC has donated more than half-a-million toys to Toys for Tots to help less fortunate families throughout central Connecticut. Volunteers shopped for children's gifts at two Toys "R" Us locations in Newington and Manchester, then loaded and delivered their donations to the U.S. Marine Corps Reserve, Company C, headquarters in Plainville. UTC's donations make up over half of the total number of toys the Plainville Marines give to families and non-profit organizations in Hartford and Tolland counties. UTC is traditionally the largest corporate provider of toys to the Marine Reserve's Plainville program.

Photo credit: United Technologies Corporation
---