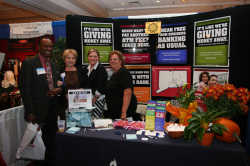 Connecticut Connections
Wednesday, October 11, 2017
Radisson Hotel Cromwell
11:00 a.m. to 4:00 p.m.
4:00 p.m. to 7:00 p.m. - Executive Evening Reception - Members Only


We have some exciting changes with Connecticut Connections 2017....Middlesex County's Premier Business Showcase which is sure to please everyone with a wide array of products and services presented by over 100 local, state and national vendors. This year we will host workshops focused on Women in Business, Energy, Healthcare, Tourism, and Insurance. We will also be holding our Health and Wellness Fair throughout the day, so make sure to stop by and get your flu shot.

New this year, attendees can get a professional photo head shot done for all business needs, and after you snap your picture, make sure to stop by and check out our photo booth frenzy for fun! There are so many opportunities for businesses to learn, grow, and network throughout this exciting event. Please check out the event schedule page for up to the date information.
We look forward to seeing you at Connecticut Connections!