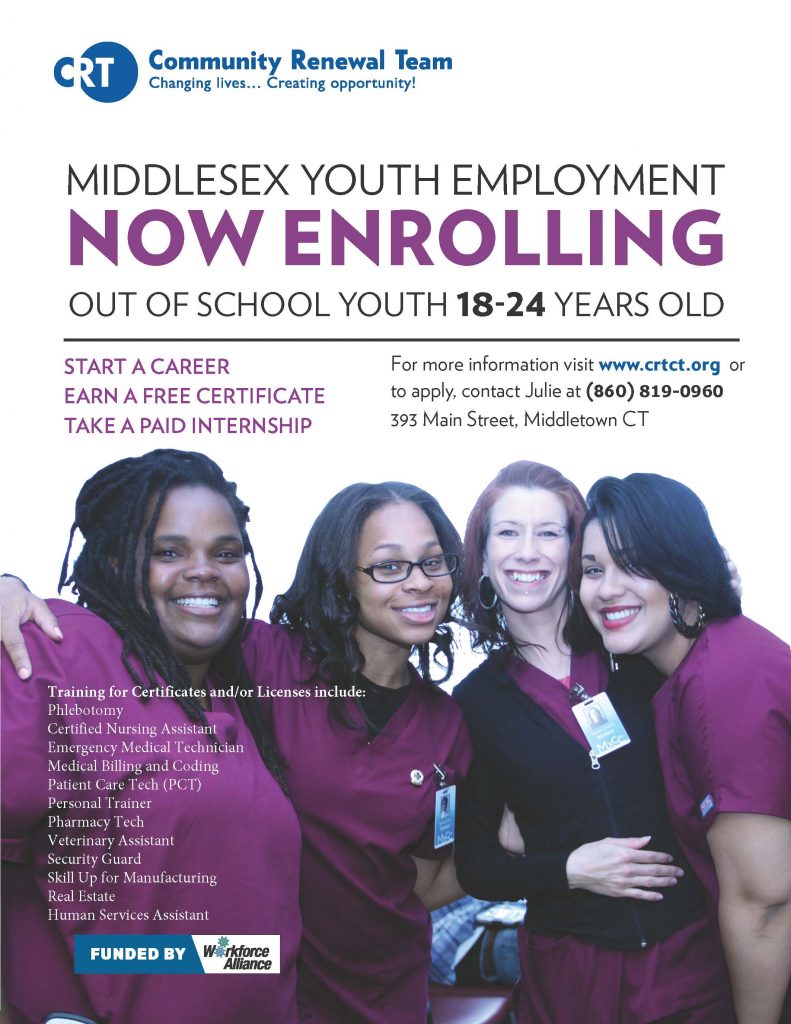 Middlesex Youth Career Development Services
Middlesex Youth Career Development Services is designed to empower out of school youth ages 18-24 providing them on the job training, paid internships or certificate programs at Middlesex Community College.  Students work with the program coordinator to set specific employment and/or education goals while in the program. Students are placed into employment after completion of the certificate program.
Enrollment into the program occurs on a rolling basis since not all youth will receive technical training at the community college. Certificate programs include:
Phlebotomy
Certified Nursing Assistant
Emergency Medical Technician
Medical Billing and Coding
Patient Care Tech (PCT)
Personal Trainer
Pharmacy Tech
Security Guard
Skill Up for Manufacturing
Sterile Processing
Real Estate
Human Services Assistant
The Chamber of Commerce provides technical classroom training as well as work based learning by arranging with private sector employers for paid work experience, paid internships or on the job training. Contextual learning focuses on the multiple aspects of any learning environment, whether a classroom or a work site. Our youth discovers meaningful information while participating in internships that will teach them problem solving in the work force.
The program is funded by the Workforce Alliance through the Workforce Investment Act (WIA). This program is a partnership between the Community Renewal Team (CRT) and Middlesex County Chamber of Commerce.