Start your Engines to Sunday Funday-Middletown is Virtually Cruisin' 2021
Rain date: Sunday, June 20
10:00 a.m.  - "Gates" Open
11:00 a.m. - Judging Starts
12:00 p.m. - Award Presented
12:30 p.m. - Parade Kicks Off
NAPA & Vale Parking Lots, Middletown
In the effort of public safety and social distancing, we have decided to go virtual once again!
Start your Engines to Sunday Funday-Middletown is Virtually Cruisin' will be taking place on Sunday, June 13 (rain date: Sunday, June 20)! This virtual cruise, powered by NAPA, will once again raise funds for very important community programs including the Hal Kaplan Middletown Mentor Program and the Middletown Summer Youth Employment Program. The virtual cruise route is specially designed to pass the Community Health Center, Middletown Police Department, Fire and Emergency Personnel, and Middlesex Health so we can properly thank and celebrate the folks who have been on the front lines of the COVID-19 crisis since the beginning.  This year we will also be celebrating our Vets.  Thank you.
We would like to thank, in advance, all of those who take part in making this unique event happen! Thank you to: NAPA and all event sponsors, Event Chairman Joe Santaniello and the entire committee, the City of Middletown for its strong and continued support of this and of all city events, Middletown Police Department, Middletown Fire Department, Middletown Public Works Department, Middletown Parking Department, and all other city personnel that supported the event, you were outstanding as usual.
 Please visit the Cruise Night on Main Street website for more information: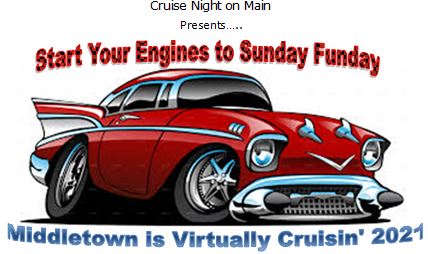 A Special Thank You Goes Out to the Following...
THE EASTERN CHAPTER OVER THE HILL GANG CAR CLUB
THE CONNECTICUT MILITARY CORVETTE CLUB
THE GARAGE GUYS CAR CLUB
MOHAWK MANUFACTURING
PERSONAL AUTO CARE
"Check out the VIDEO for Start Your Engines to Sunday Funday - 'Middletown is Virtually Cruisin' 2020!"