The Legislative Committee works hard as the Chamber's voice on important public policy issues in the State of Connecticut.  The committee is comprised of Chamber members from a wide variety of professional fields including attorneys, government relations professionals, developers, physicians, accountants, insurance professionals, banking professionals and small business owners.
The Legislative Committee is responsible for creating the Chamber's Public Policy Agenda on a yearly basis and develops testimony and position statements on important issues under consideration at the state level.
The Legislative Committee hosts five major legislative events every year: The Legislative Breakfast with the Middlesex County legislative delegation, and leadership events with leaders from both parties of the House and Senate.
The Legislative Committee meets on the third Friday of each month, at 8:00 AM, in the Chamber Conference Room.  For more information, please contact Jeff Pugliese at 860-347-6924 or jpugliese@middlesexchamber.com.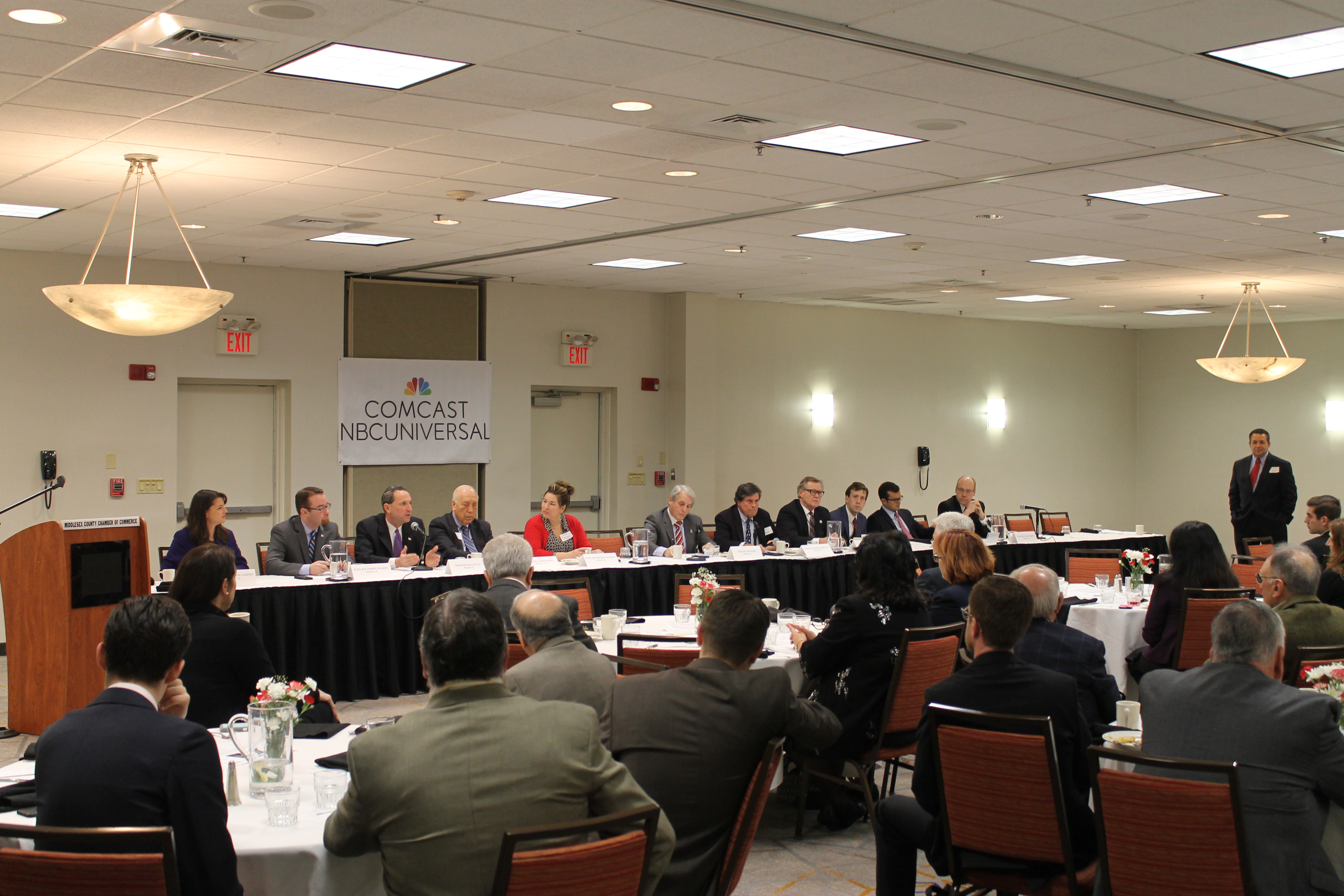 The Middlesex County Chamber of Commerce 2020 Legislative Breakfast, sponsored by Comcast, was held on Friday, February 28, 2020

Picture left to right: State Rep. Christie Carpino, State Rep. Joe Serra, State Rep. Devin Carney, Chamber Chairman Don DeVivo, State Rep. Emil "Buddy" Altobello, Comcast VP of Public Relations Kristen Roberts, Chamber Legislative Committee Co-Chair Maureen Westbrook, State Sen. Norm Needleman, State Sen. Christine Cohen, Comcast Vice President of State Government Affairs Rob Earley, State Representative Quentin Phipps, State Sen. Mary Daugherty Abrams, Comcast Manager of Government & Regulatory Affairs Matt Skane (Rear), State Sen. Matt Lesser, State Rep. Noreen Kokoruda, Chamber Legislative Committee Co- Chair Rich Carella, Chamber President Larry McHugh Note: State Rep. Irene Haines also attended but is not pictured.