Middlesex County Chamber of Commerce
The Middlesex County Chamber of Commerce is a dynamic business organization with over 1,900 members that employ over 50,000 people.  We strive to be the voice of business in Middlesex County and the surrounding area.
From our eleven geographically based divisions which meet on a monthly basis throughout Middlesex County, to our industry based committees and councils, the Chamber works hard to provide a valuable service to our members.
Monthly Member Breakfast Meetings feature keynote speakers from a number of different professional fields including the business community, national politics, sports, and entertainment.  In addition to high profile speakers, Chamber Member Breakfast Meetings provide outstanding networking opportunities and attract between 300 and 500 Chamber members each month.
Our monthly Member Business After Work Networking Events, held at locations throughout Middlesex County, always include free food, beer, wine, soft drinks, and the best networking around.  Business After Work Networking Events typically attract between 150 and 300 Chamber members.
The Chamber hosts a number of large scale events each year including Chamber Golf Tournament, Cruise Night on Main Street, Middletown Pride, Holiday on Main Street and more.
The Middlesex County Chamber of Commerce is the largest Chamber in the state.  In addition to being an effective and dynamic business organization, this organization strives to be a community organization.  We run a number of events and programs that support youth development, substance abuse prevention, our troops and our veterans.  Join us!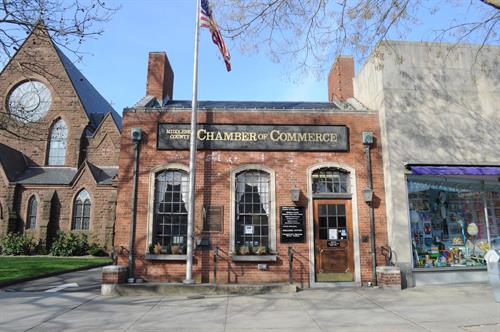 Middlesex County
Middlesex County is located in the valley of New England's most scenic river and along the spectacular Connecticut shoreline.  From its delta at Long Island Sound, upstream through the valley, the Connecticut River provides magnificent unspoiled vistas of wooded hills and picturesque villages. Beyond its banks are historic towns, lakes and streams, high hills with rugged outcroppings, rolling farmlands, scenic country roads and cool, deep woods.  Middlesex County is also home to some of the top events and tourist attractions in Connecticut including the Durham Agricultural Fair and the Travelers Championship which both attract over 250,000 people every year! Middlesex County is truly a great place to live, work and play.