Connecticut CPA Firm Announces Acquisition and Name Change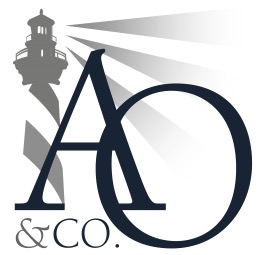 Shelton, CT, January 2, 2020 — The full-service accounting firm MAWC, LLC -- with offices in Killingworth and Shelton -- has announced the acquisition of Lawrence P. Lemieux & Associates, LLC, effective January 1, 2020. The combined firm is now doing business under the new name of AO & Company, LLC, and the firm's new web address is www.aococpas.com
With an experienced and committed team of more than 20 accountants and consultants, AO & Company, LLC will offer a broad range of services ranging from tax planning and auditing to bookkeeping and business advisory services.
"We are excited to make this move, because we believe that a larger organization will allow us to strengthen our overall capabilities in serving our clients, particularly in the areas of audit, tax and business consultation, said John Accavallo, AO's Managing Partner. "This also allows us to add more depth to our team. Finding and retaining excellent people is a constant challenge for most CPA firms, and a larger organization will also mean our associates will benefit from stronger career growth opportunities."
All employees from both MAWC and Lemieux are being retained in their current roles, and some part-time employees will become full-time in the months ahead.
"We value the relationships we have built with our clients and we look forward to continuing to provide them with outstanding accounting services for many years to come," added Mr. Accavallo.
Connecticut Green Bank offers financing for remediation of health and safety issues that prevent energy upgrades
Single and multifamily properties can benefit from low interest rate loans to remove mold, asbestos and other issues
Rocky Hill–– November 25, 2019 –
In Connecticut, 58% of the housing stock was built prior to 1969, according to the Partnership for Strong Communities, and this older housing stock can often present problems to home owners and residents. Along with structural and code violations from possible deferred maintenance over time, there is potential for the presence of health and safety issues, like mold and asbestos. The existence of these hazards can also make energy assessments, and related efficiency improvements, impossible. To help implement home energy upgrades and remediate health and safety problems, the Connecticut Green Bank and its partners are offering special low interest rate financing solutions for single- and multi-family homeowners.
For owner-occupied 1-4 family properties, the Smart-E Loan program now allows asbestos and mold remediation to be financed in full (up to $25,000) when completed with an Energize CT Home Energy Solutions (HES) program assessment or other energy-related improvements.
"Mold or asbestos in a home prevents blower door guided air sealing, which is an important part of the HES program," said Lorenzo Wyatt, owner of Home Comfort Practice. "If we can't complete this part of the assessment, home owners can't access the full benefits of efficiency improvements, not to mention the obvious negative health implications."
Administered by the Green Bank in partnership with nine local lenders (community banks, credit unions and a community development financial institution), the Smart-E Loan offers long-term, low-cost financing for more than 40 qualifying energy improvements. A network of over 500 eligible local contractors completes these upgrades, including insulation, windows, efficient heating and cooling, electric vehicle home charging stations, and solar systems.
"We heard concerns from contractors who are often unable to complete home energy assessments and make recommendations for more comprehensive energy efficiency improvements because of mold or asbestos, especially in low-to-moderate income households," said Bryan Garcia, President and CEO of the Green Bank. "We understand that to provide all of society with a healthier, more prosperous future through the green economy, our financing programs must address these critical issues."
Smart-E Loan terms range from 5-20 years, with associated not-to-exceed rates fixed between 4.49% - 6.99%. Loan amounts range from $500 - $40,000, though several of the participating community banks do not lend over $25,000. Through June 30, 2019, participating Smart-E Lenders closed 4,266 loans for $65.4 million in financed projects.
For multifamily property owners, particularly those serving low- and moderate-income residents, the Green Bank offers the Energize CT Health and Safety Revolving Loan Fund. This loan was designed to address a wide range of health and safety issues, including mold, asbestos, lead, knob-and-tube wiring, radon, and leaky roofs, that block the way to full energy improvements.
Created thanks to $1.5 million of Regional Greenhouse Gas Initiative (RGGI) dollars from the Department of Energy & Environmental Protection (DEEP), the Green Bank has already financed projects with these funds. One example is Success Village, a 924-unit housing co-operative in Bridgeport and Stratford. The $165,000 loan will cover a phase one pilot that includes asbestos removal from piping on the central heating system which was installed in the 1960s. Completion of the pilot will inform design, engineering and implementation of health and safety and energy upgrades for the full property.
"We are seeing significant energy, maintenance and other cost savings on properties that replace old, inefficient HVAC equipment, weatherize building envelopes or add solar," said Kim Stevenson, Director of Strategic Initiatives at Inclusive Prosperity Capital, the non-profit that manages the Multifamily Program on behalf of the Green Bank. "These savings also improve the living environment for residents and improve property values.  We strongly encourage owners to evaluate their buildings for missed savings opportunities."
The Energize CT Health and Safety Loan fund offers financing of $10,000 to $300,000 (waivers for larger loans are possible) with terms up to 20 years at 2.99%.
Disaster Restoration Services & Sal's Clothing Restoration Host Clothing & Toy Drive
Portland–– October 28, 2019 – Disaster Restoration Services & Sal's Clothing Restoration is keeping Connecticut Warm once again! As the winter season is approaching, many are without the proper clothing to gear up for the bitter cold.
Together with Central CT BNI they are also collecting new unwrapped toys this holiday season to help make every child's visit to Connecticut Children's as comforting and enjoyable as possible.
Looking for new toys for children of all ages.
Help them help Connecticut by working together to see how many coats and New Toys we can collect this holiday season!
DRS will be picking up the coats & toys the week of December 9th- December 13th. If you believe that you will get many coats or Toys, please let us know so we can bring you a box to keep them in.
In lieu of prizes, we have decided that the companies who donate the most coats or Toys, will be awarded with a pizza party.
If you have any questions, or to arrange your pickup,
please contact Tammy with DRS at 860-788-6822 or tammy@drscleanup.com
DRS is a drop off location Mon-Saturday from 8am - 4:30p at 338 Airline Ave, Portland
Expanded ConnectiCare Center Offers Additional Services to Waterbury Region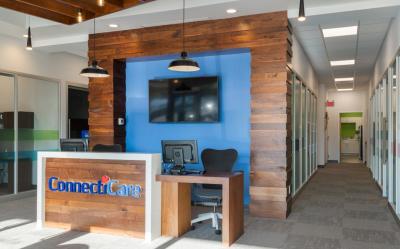 WATERBURY–– October 28, 2019 – ConnectiCare, one of Connecticut's leading health plans, recently renovated and expanded its ConnectiCare Center at 835 Wolcott Street in Waterbury. The expansion added approximately 1,000 square feet to the center, allowing ConnectiCare to provide a wider range of services to its members and the surrounding community.
The Waterbury center has provided the public with help selecting, understanding and utilizing health plans since 2017. The volume of visitors during 2018 led to the expansion of the center. The renovated center now includes an expanded event space where ConnectiCare can host fitness classes, health seminars, community partners, and more. In 2020, the expanded center will include certified diabetes nurse educators, on-site nurses and social workers that can help educate members on a variety of health and wellness related topics.
"Our ConnectiCare centers across the state offer visitors individualized service and personal attention," said Eric Galvin, President of ConnectiCare. "Our members can get answers to questions, learn how to get the most from their health plans, find doctors and join fitness classes. ConnectiCare member or not, everyone is welcome to stop by and get health plan recommendations and participate in educational programs. We're delighted to be in Waterbury creating healthier futures for our customers and the community."
"We're fortunate to have ConnectiCare looking out for the health of Waterbury's residents," said Joseph McGrath, Director of Economic Development for the City of Waterbury. "The ConnectiCare Center is a tremendous resource and helps us in our mission to promote healthier families, neighborhoods, and communities."
"ConnectiCare is serving a great need here in the City of Waterbury," said State Representative Geraldo Reyes. "Healthcare can be very complicated and this center will help make it easier for residents to understand their benefits and get the care they need."
In addition to the Waterbury Center, ConnectiCare also offers locations in Bridgeport, Farmington, Manchester, Newington and Norwalk. For more information, visit visitconnecticare.com.
About ConnectiCare
ConnectiCare is a leading health plan in the state of Connecticut.  A local company for more than 35 years, ConnectiCare has a full range of products and services for businesses, municipalities, individuals and those who are Medicare-eligible. By striving to make it easy for members to get the care they need, ConnectiCare leads the individual market in the state and is ranked among the top commercial health plans in the nation, according to the National Committee for Quality Assurance. ConnectiCare is part of the EmblemHealth family of companies. For more information, visit connecticare.com. To learn about ConnectiCare's health insurance plans, visit chooseconnecticare.com.
Vista Life Innovations Celebrates its 30th Anniversary!

On Saturday, October 26, Vista Life Innovations will commemorate its 30th Anniversary at its Annual Meeting & Awards Ceremony at Water's Edge Resort & Spa in Westbrook, CT. Vista has been proud to offer its unique post-secondary educational program supporting individuals with disabilities for the past three decades.
During the Annual Meeting, Vista recognizes new members of the Board of Directors, congratulates staff and members who have been at Vista for 10, 20 and now 30 years, and acknowledges the employment anniversaries of Vista members at 5-year increments with their respective employers in the community. For being community supporters this year, Vista acknowledges George Whelen of Whelen Engineering Company, Inc. as Employer of the Year, Michael Perry of Metro Neighbors Publisher as Presidents Awardee, and Betty Narducci from The Knit as Community Support. To highlight the 30th Anniversary, the Annual Meeting will be centered around the theme of metamorphosis.
Vista would like to our event sponsors: Andi Barough, Arlyn and Steven Siegelaub, and Harvey and Lori Payton.
Sabrina Trocchi, PhD, Mpa, Appointed President and Chief Executive Officer, Wheeler Clinic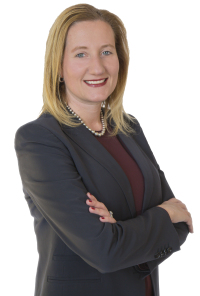 Board of Trustees selects expert in health care, addiction treatment
Plainville, Conn. October 21, 2019) - - – Sabrina Trocchi, PhD, MPA, has been appointed president and chief executive officer of Wheeler Clinic effective November 2, 2019, the Board of Trustees announced today.
The Board conducted a thorough confidential search process throughout the summer, led by Christine Skelly of West Hartford, Wheeler's outgoing Chair. Susan Walkama, LCSW, who transformed Wheeler into a leading statewide provider of integrated health care services, will retire on November 1, 2019, the organization announced on October 14.
Dr. Trocchi previously served as Wheeler's chief operating officer, overseeing a systemic approach to development and execution of organizational strategy, along with a wide range of community-based and in-home services in children's and adult outpatient, community justice, prevention and wellness, family and community services, congregate care, early childhood, and psychiatric medical, as well as grants development and quality operations. She also had served as the chief strategy officer, overseeing and implementing strategic partnerships, ventures, and alliances for the $77-million organization. Her leadership came during a time of tremendous change for Wheeler, as the organization evolved from a community-based provider of behavioral health services to a statewide, innovative leader in fully integrated health care and a federally qualified community health center, and grew to serve more than 30,000 individuals and families annually.
"Wheeler's leaders have guided it through transformational times in health care, and Dr. Trocchi has been vital to our growth and focus on our patients," said James Moylan of Bristol, Wheeler's Chairman of the Board of Trustees. "Her deep expertise in health care systems, integrated care, evidence-based practices, addiction treatment, and more is the perfect fit for a visionary organization like Wheeler that is always looking to community priorities today, and the future of health care tomorrow."
"Every day at Wheeler, the board and my 1,000 colleagues share my commitment to make sure we put our patients first, and pull in every resource we have to help them achieve wellness. We know this approach gets the best health outcomes for everyone who comes to us," Trocchi said. "With a continued focus on those outcomes and quality, I'm honored to be selected to lead this great organization, and I'm excited about what is ahead of us all." Prior to joining Wheeler in 2014, Trocchi served in a number of leadership positions with the Connecticut Department of Mental Health and Addiction Services, including as chief of staff. She was responsible in directing the planning, development, and garnering of over $170 million in new federal funds for the expansion and enhancement of clinical substance abuse and/or mental health treatment and prevention services. Trocchi provided leadership and direct oversight to DMHAS' six state-operated local mental health authorities, with over 1,600 staff, including planning, developing, and directing clinical and administrative programs and services in accordance with policies established by the commissioner and in response to local needs. Trocchi holds a Bachelor of Arts degree in political science from the University of Connecticut, a master's degree in public administration from the University of Hartford, and a Ph.D. from the University of Connecticut Health Center, focusing on public health with a concentration in behavioral health. She is an adjunct professor at the University of New Haven.
Walkama served as President and Chief Executive Officer for more than a dozen years, and began her career at Wheeler nearly four decades ago. Skelly praised her commitment to Wheeler's mission and everyone the organization serves.
"Susan has been an exceptional leader through unprecedented change," said Skelly. "She did not chase trends, but led Wheeler to the cutting edge and lit a path for everyone to follow. Her strategic vision of quality, accessible health care for all shaped every decision, in every area. Wheeler's board, staff and, most importantly, the individuals and families we serve, are all much better for her work. Her legacy lives on in every consumer and patient whose life has been changed through Wheeler's services."
Disaster Restoration Services (DRS) Celebrates 10 years in Business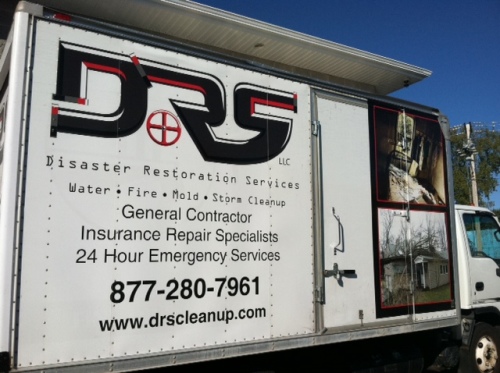 Portland, Connecticut. (October 10, 2019) - - Disaster Restoration Services (DRS), Connecticut's leader in fire, water & flood damage restoration, mold remediation, and reconstruction recently celebrated ten years in business. DRS is available to help you recover from disaster 24 hours a day, 7 days a week. With their professional restoration services, you get immediate response to your fire, water, or storm damage. Their full-service team of professional and attentive first-responders perform cleanup, repair and remodeling, where you can solve all your restoration needs with just one call.
DRS is a family-owned company dedicated to helping Connecticut and Massachusetts residents and businesses get their homes and property back to pre-disaster condition. Congratulations to Owner Danny Strong, Vice President Tammy Strong, Water Mitigation Technician Ariel Jimenez, and the entire team at DRS.
ShopRite and Kimberly-Clark Corporation Join Forces to Plant up to 25,000 Trees
CROMWELL, Conn. (June 18, 2019) - - ShopRite and Kimberly-Clark (NYSE: KMB) have partnered with One Tree Planted to plant up to 25,000 trees in the communities where ShopRite stores operate. To kick off this significant sustainability effort, ShopRite will hold a ceremonial tree planting event on Tuesday, June 25th from 11 AM to 12 PM ET at one of its newest stores, the ShopRite of Cromwell, located at 45 Shunpike Road in Cromwell, Conn.
"I'm so pleased to host the ceremonial tree planting at the ShopRite of Cromwell," said Harry Garafalo, owner and operator of the new supermarket and chair of ShopRite's Environmental Sustainability Committee. "ShopRite has a strong Corporate Social Responsibility (CSR) program dedicated to environmental sustainability. At ShopRite we are focused on energy and water conservation and reducing waste through recycling, composting and food donations. Our new store in Cromwell includes examples of sustainable technologies such as LED lighting and environmentally-friendly refrigerant systems. Our store associates also volunteer for community clean-ups and other environmental projects, and we support local organizations such as the CT Audubon Society. We look forward to working with the community to raise awareness about protecting the environment, and this tree planting is a great way to start."
ShopRite and Kimberly-Clark passed on special savings to their customers earlier this month with SCOTT® Bath Tissue (30-pack), SCOTT Naturals Flushable Wipes (3-Pack), SCOTT Towels (3-Pack), Viva® Towels (2-Pack) and select Cottonelle® Bath Tissue to celebrate the sustainability partnership. Together ShopRite and Kimberly-Clark are continuing to make a difference in the communities where consumers shop, live and play.
"At Kimberly-Clark we care about our people, our communities and the future of our planet. Protecting our forests is just one of the ways we care for the planet and lead the world in essentials for a better life," said Peggy Murphy, Sustainability Leader, Kimberly-Clark North America. "We are very proud to partner with ShopRite and One Tree Planted on this project because it is helping to create a sustainable future for the communities where we work and live."
The trees will be planted in several states that include ShopRite communities (there are stores in New York, New Jersey, Delaware, Connecticut, Maryland and Pennsylvania). Each shovel ready project will plant approximately 5,000 trees for a total 25,000 during the most favorable planting season between 2019 and 2020.
"This is another way for ShopRite to make an impact in the communities where ShopRite stores operate, and at the same time help the planet," said Mark Kelso, BAM VP Client Development, which facilitated the program with ShopRite and Kimberly-Clark. "Planting trees is not only a way to strengthen the environment, it's also a way to strengthen communities. We're honored to play a small part in this major sustainability initiative with ShopRite and Kimberly-Clark."
About ShopRite
ShopRite is the registered trademark of Wakefern Food Corp., a retailer-owned cooperative based in Keasbey, NJ, and the largest supermarket cooperative in the United States. With more than 270 ShopRite supermarkets located throughout New Jersey, New York, Pennsylvania, Connecticut, Delaware and Maryland, ShopRite serves more than six million customers each week. Through its ShopRite Partners In Caring program, ShopRite is dedicated to fighting hunger in the communities it serves. Since the program began in 1999, ShopRite Partners In Caring has donated $48 million to food banks that support more than 2,200 worthy charities. For more information, please visit www.shoprite.com.
About Kimberly-Clark
Kimberly-Clark (NYSE: KMB) and its trusted brands are an indispensable part of life for people in more than 175 countries. Fueled by ingenuity, creativity, and an understanding of people's most essential needs, we create products that help individuals experience more of what's important to them. Our portfolio of brands, including Huggies, Kleenex, Scott, Kotex, Cottonelle, Poise, Depend, Andrex, Pull-Ups, GoodNites, Intimus, Neve, Plenitud, Viva and WypAll, hold the No. 1 or No. 2 share position in 80 countries. We use sustainable practices that support a healthy planet, build stronger communities, and ensure our business thrives for decades to come. To keep up with the latest news and to learn more about the company's 147-year history of innovation, visit kimberly-clark.com or follow us on Facebook or Twitter.
About One Tree Planted
One Tree Planted is a 501(c)(3) non-profit based in Shelburne, Vermont. We started in 2014 with a mission to make it simple for anyone to help the environment, and planting a tree is one of the best ways to do that. Every dollar donated gets one tree planted. Trees clean the air we breathe and the water we drink, and provide habitats for biodiversity. We work with amazing reforestation partners around the world to get trees in the ground for environmental and social impact. Projects range from forest fire recovery to watershed health and agroforestry, providing benefit to countless people and ecological systems. We are proud to work with businesses focused on sustainability and are thrilled to be part of initiatives that make a positive difference for forests.
Roto Frank of America Celebrates 40th Anniversary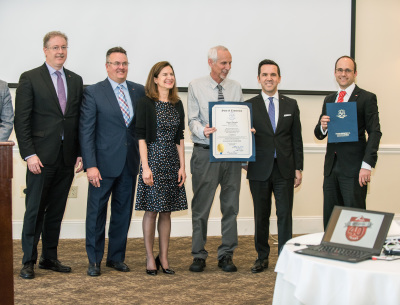 Roto Frank of America's 40th Anniversary celebration that was attended by Lt. Governor Bysiewicz, State Senator Needleman, Chester's First Selectwoman Lauren Gister, among many others
Photographer Walt Jedziniak Lands 1st Solo Exhibit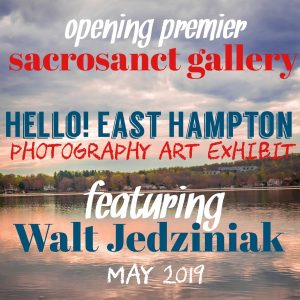 "Hello! East Hampton" is the title name of local photographer Walt Jedziniak's premier solo exhibit in themed art photography.  Jedziniak, a well-known area resource for portrait photography of families, students, and fashion, has expanded his portfolio to include local historic landmarks.  Jedziniak will  showcase his original work with the new Sacrosanct Gallery : Contemporary American Art in their very first opening exhibition.
"Hello! East Hampton" features more than a dozen images of East Hampton, Connecticut's iconographic public buildings and sites, a project Jedziniak conceived and embraced in his role with the town's Economic Development Commission.  Jedziniak, who also serves as commissioner, has been working with officials to strengthen economic ties and business relations, particularly in the cultural and tourism sectors.  His efforts include a project for establishing a local directory of businesses, which is the impetus to this photographic exposé.
Sacrosanct Gallery curator Shauna Lee Lange said, "When I saw the quality of Walt's images, and realized they represented more than just town history, the work seemed like a perfect match for our gallery's opening exhibition.  Together, we are a community reinforcement that people, places, and partnerships are all intrinsically tied in the fabric of our lives."
The color-photography exhibit will be available to the public free of charge from Monday, May 6, 2019 through Friday, May 31, 2019.  Images will be available for purchase in a variety of modern materials and framing options.  Jedziniak will also deliver a talk on the method, meaning, and inspiration for the work Tuesday evening, May 14th from 7 – 9pm (reservations required).  A closing reception open to the public will be held to honor the artistry and the artist on Friday evening, May 31, 2019 from 7 – 9pm.
Walt Jedziniak Photography is a full service, family-owned studio specializing in custom designed and unique packages for the community's photographic needs.  Services include professional portraits, babies, maternity, seniors, engagements, boudoir, and model portfolios among others.  Jedziniak is a member of the Professional Photographers of America and the Connecticut Professional Photographers Association.  He is reached at waljedphoto@gmail.com or 860.267.8618 or waljedphoto.com on the web.
Sacrosanct Gallery is at 82 Main Street, Suite 5 in the East Hampton Connecticut Historic Village District most days from 9a – 9p give or take while the gallery is ramping up.  They are reachable at sacrosanctgallery@gmail.com or 941.875.5190 or on the web at sacrosanctgallery.com.  Sacrosanct Gallery is a participating member of the New England Foundation for the Arts.  The public is warmly invited to participate in this thoughtful portrayal of active, small town lake life.
sacrosanct gallery, 82 main street, suite 5, east hampton, ct  06464
sacrosanctgallery@gmail.com      sacrosanctgallery.com      941.875.5190
Connecticut Rental Center Celebrates 50 Years in Business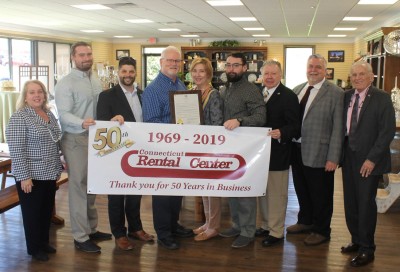 Connecticut Rental Center, located on 30 deKoven Drive in Middletown recently celebrated on 50 years in Business. From left to right is: Chairwoman of the Downtown Business District Marie Kalita-Leary, Riley Byrne, Middletown Mayor Dan Drew, Owner Thomas Byrne, Dawn Byrne, Garrett Byrne, Chamber Chairman Jay Polke, Chamber Vice Chairman Don DeVivo, and Chamber President Larry McHugh.
Munger Construction Published in Metal Construction News
Munger Construction was recently published in Metal Construction News as a monthly featured company. The article goes into detail with David DeMaio, Munger president, about strategic business planning, team building and earning clients' trust over the years. Take a few minutes to read this piece on the key components for success as a commercial construction company in Connecticut.
LEVEL UP
Strategic planning, Team building and Earning clients' trust support design-builder's growth in 2018, pat munger construction co. inc. completed $50 million worth of construction projects, marking the largest revenue volume in the company's 50-year history. the banner year did not materialize entirely by chance. the Branford, CT.-based company had been executing a strategic plan to grow its core business—low-rise metal building construction, repair and interior fit-out—when demand for construction increased.
David DeMaio, LEED AP, president and treasurer at Munger Construction, says, "The industry has been strong; it's stronger in Connecticut than it has been for a number of years. So I think it's a number of different things; strategic planning and some good fortune. And we've been around for 51 years, so we have a pretty good reputation for doing the job right.
SOLIDIFYING A TEAM
Munger Construction has been growing steadily since DeMaio took over the company in 1992. From a staff of four, the company grew to 64 employees by 2019. One of the most significant turning points relative to Munger Construction's recent growth occurred in 2015, when DeMaio says he was at a crossroads with the business. He recognized an opportunity to set the company on a deliberate course for the future. What direction the company would go, what role DeMaio would have with the company, if he would continue in an ownership position and other considerations were indefinite. "This was really important; it was a defining moment for me and the business' history," he says.
Subsequently, DeMaio began meeting regularly with a business consultant. He researched strategic planning and gathered input from his employees. DeMaio determined Munger Construction could thrive under direction from the next generation of leaders, and he began developing a strategic plan for the company's next phase of growth. He started solidifying a leadership team. A marketing coordinator and business development manager were hired, two new positions at the company.
Before the changes, DeMaio was the only person soliciting new clients. Delegating and letting go of some tasks was difficult at times, he says, but he knew the benefits would be well worth the efforts and embraced the changes. "I needed to surround myself and take advantage of all the good people we have in this company and empower them with leadership responsibilities so that I could really focus on growing and running the business. And that's a hard thing to do, to give up responsibility. It comes down to trust; I trust these folks. I surrounded myself with a great leadership team."
EARNING TRUST
In addition to building trust among employees, DeMaio's strategic plan emphasizes building trust with potential and existing clients. To clearly communicate those efforts to clients, DeMaio's leadership team put down in writing what they call their proven process, based on a concept in "Traction." The proven process summarizes the execution of projects from inception to completion in nine steps, the first six of which include estimating and design work done in advance of a contract or any payment.
"The first six steps are how we define our relationship with our customer, we're earning their trust," DeMaio says. "That's what this is all about; it's earning the trust position with the customer. Once we earn their trust, they are going to be customers for life."
The proven process gives clients greater confidence in what they can expect from Munger Construction during a project, DeMaio says. "What I've learned from defining this proven process is that customers look at this and go, 'Ah, this is what Munger is about; this sums it up.' I never fully realized how important our service and this process that we do so naturally here is to the clients. Even years after completing a project, customers talk about how we took them through that process, how we executed that process for them, and how comfortable it was."
ConnectiCare Speaks to East Hartford Students about the Importance of Staying Healthy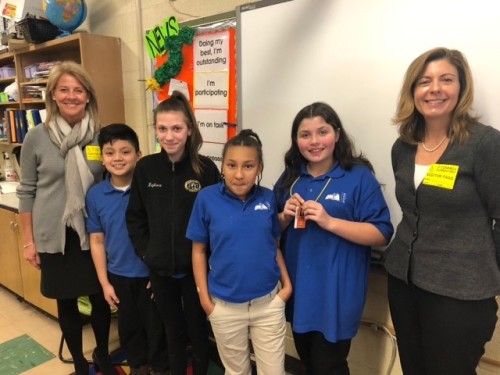 PHOTO: ConnectiCare's Cheryl Hutchinson and Kim Kann with 5th grade students Joseph Florian-Lopez, Isabella Migliore, Sabrina Carman and Natalya Campbell
On February 22, Cheryl Hutchinson, Senior Vice President of Human Resources for ConnectiCare, spoke to 5th graders at the Dr. Thomas S. O'Connell Elementary School in East Hartford about the importance of maintaining your health.
"We were delighted to see such an engaged bunch of students that asked great questions and were excited to learn about ways to stay healthy," said ConnectiCare's Public Relations & Corporate Communications Director Kim Kann (photographed above). "ConnectiCare would like to thank teacher Kara Colon and the Thomas O'Connell Elementary School for promoting a healthy lifestyle to their students and for giving us the opportunity to be part of their school community for the afternoon."
For more information about ConnectiCare's community initiatives, please visit: https://main.myconnecticare.com/about-connecticare.
Key Cars Group Announces the Acquisition of Jackson Chevrolet:
Middletown Dealership is now Key Chevrolet
MIDDLETOWN–The Key Cars Group, owners of Key Hyundai in Manchester and Milford, are proud to announce the acquisition of Jackson Chevrolet in Middletown, CT, now Key Chevrolet.  "When the opportunity to acquire Jackson Chevrolet came to us, we knew it was a perfect fit.  Jackson Chevrolet was also female owned and operated by a 3rd generation Connecticut car dealer, TJ Jackson and the company shared our values.  Our common history is remarkable, down to the fact that our Grandfathers were both named Sam and both started our families off in the car business," said Jill Merriam, Dealer for the People.
Key Chevrolet will retain all the Jackson Chevrolet employees, including all the mechanical staff who have years of experience servicing Chevrolets and other General Motors brands.  All Jackson Chevrolet customers can expect a seamless transition when they come to service their cars and trucks.  Jill Merriam went on to explain that she and her business partner and brother, Jeff Merriam, are excited to build on the great history of Jackson Chevrolet by bringing in their Dealer for the People mission statement.  They will continue to provide car buying services to all customers, including customers with credit challenges and customers looking for the perfect car at the perfect price and payment for their needs.  You can learn more about the all new Key Chevrolet at keychevroletct.com