Nathan L. Jacobson & Associates, Inc. Wins National Award
A Connecticut consulting engineering firm has been selected by the American Council of Engineering Companies (ACEC) to receive a National Engineering Excellence Award. Nathan L. Jacobson & Associates, Inc., a civil and environmental engineering firm located in Chester, Connecticut, was selected in 2021 by ACEC National for their work on the Pages Mill Pond Dam Fishway on the Farm River in North Branford, Connecticut.
The Farm River has one of the largest populations of wild trout for a Connecticut coastal river and has been targeted by the Connecticut Department of Energy and Environmental Protection (CTDEEP), Inland Fisheries Division as one of the best opportunities to establish a run of sea-run brown trout while at the same time further developing the existing river herring runs.
The fishway consists of a series of concrete structures and sloped aluminum steeppass sections that were carefully designed to avoid impacts to the river and existing infrastructure, for hydrodynamic forces during extreme flood events, and to meet the owner's aesthetic requirements. The 170 ft. long Fishway will allow resident brown trout and target species to climb 10 feet to reach the 4.25-acre head pond and 6 miles of river habitat above the dam. The target species are diadromous fish (fish that spend portions of their life cycles in both fresh water and salt water) including sea-run brown trout, alewife, blueback herring, sea lamprey and American eel. This is the first time in 323 years that target species have had access above the dam since construction of the dam and a mill at the site in 1697.
Restoring the free passage of migratory fish species not only has a positive effect on the health and numbers of the target species but has a cascading benefit to the health and wellness of species on subsequent levels of the food chain. The project was built in 2020 for approximately $373,000. Engineering and construction costs were funded with generous grants from the National Fish and Wildlife Foundation and the CTDEEP.
The project was a partnership between the dam owners (the Suter family), Hammonasset Chapter #446 of Trout Unlimited, Inc. (a non-profit organization), Save the Sound (a non-profit organization) and the CTDEEP, Inland Fisheries Division. The fishway was designed by Nathan L. Jacobson & Associates, Inc. who also prepared permit submissions, and performed part-time construction administration and inspection. The fishway was constructed by Schumack Engineered Construction Corp. of Clinton, CT. The fishway is operated and maintained by Trout Unlimited with assistance from the CTDEEP, Inland Fisheries Division.
BL Companies Receives Employer of the Year Award from the Connecticut Women's Transportation Seminar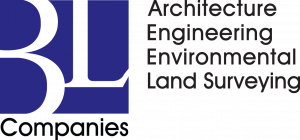 BL Companies received the 2020 WTS Connecticut Employer of the Year Award for its efforts to support and advance women in the transportation industry. Employer of the Year is awarded to organizations that recruit, retain, advance, and support women in the transportation industry through career and professional development, continuing education, and professional organization memberships as well as provide encouragement to female students entering the transportation industry through internships. BL Companies will be honored alongside other award winners at a Virtual Awards Dinner in May, 2021.
The WTS Connecticut Board of Directors commended BL Companies for its contributions, writing that "[BL Companies'] support of women within the transportation industry has made a significant difference in how WTS Connecticut is perceived today."
"We are honored to receive an award in recognition of our support for women in the transportation industry," said Carolyn Stanworth, President and CEO of BL Companies. "Creating an environment that engages and advances women is an important goal for our firm."
BL Companies is a 100% employee-owned company providing multidiscipline architectural, engineering, environmental, and land surveying services to clients throughout the US. BL is consistently listed among the Top 500 Design in the US by Engineering News-Record and has over 350 employee-owners across Connecticut, Florida, Maryland, Massachusetts, New Jersey, New York, North Carolina, Ohio, Pennsylvania, Rhode Island, Tennessee, and Texas.
Comcast Named a 2021 Top 10 Best Place to Work in Connecticut

Comcast was recently named as one of the Best Places to Work in Connecticut in 2021. The company's Western New England Region, which is headquartered in Berlin, CT, was ranked tenth in the "Large Companies" category. This is the sixth straight year and thirteenth time that Comcast has been recognized by the prestigious program created by the Hartford Business Journal and Best Companies Group.
Ursel's Web Celebrates 41 Years in Business

Ursel's Web is a gallery of fine and local art, custom framing, and unique gifts, specializing in German gifts.
We have several gift shows during the year: an Easter show, a summer pottery show, and the gallery-transforming Christmas show.
Regarding custom framing, we understand that well-framed art is like a cherished memory; both should last a life time. This is why we are celebrating 40 years of happy customers. Our goal is to provide you with expert design, helpful information, and of course a beautiful finished product.
We invite you to pay us a visit to meet our friendly and knowledgeable staff and see what we have to offer.
Free estimates are gladly given. Corporate Planning is available, too.
ConnectiCare Centers Receive International Recognition
FARMINGTON, CT (February 23, 2021) – ConnectiCare, a leading health plan in Connecticut, recently received three awards – gold, silver, and bronze – at the 15th Annual Stevie® Awards for Sales and Customer Service.
The ConnectiCare centers took home a gold award for Innovation in Customer Service – Other Service Industries, a silver award for Best Customer Satisfaction Survey, and a bronze award for Best Customer Engagement Initiative. More than 2,300 nominations from organizations of all sizes and in virtually every industry, across 51 nations, were considered in this year's competition.
ConnectiCare was recognized for the COVID-19 health and safety measures it implemented in each of its ConnectiCare centers and for its Peace of Mind and Comfort Call initiatives, which provide members with additional support during the pandemic.
"Our members' health and wellness has always been our top priority, and this was especially true as the pandemic affected Connecticut residents in 2020 and continues to impact the state," said Eric Galvin, President ConnectiCare. "We're honored to be recognized for the efforts we made over the past year to support our members and are proud of our team for their dedication to excellence during this difficult time."
This is the third year in a row that ConnectiCare received multiple Stevie® awards for customer service. Last year, ConnectiCare was awarded a silver award for Innovation in Customer Service, a bronze award for Best Customer Satisfaction Strategy, and a bronze award for Best Customer Engagement Initiative. In 2019, the health plan received a silver award for Customer Service Management Team of the Year and a bronze award for Contact Center of the Year (Up to 100 Seats) – Financial Services Industries.
"In the toughest working environment in memory for most organizations, 2021 Stevie Award winners still found ways to innovate, grow sales, please their customers, and secure new business," said Stevie Awards president Maggie Gallagher.  "The judges have recognized and rewarded this, and we join them in applauding this year's winners for their continued success.  We look forward to recognizing them on April 14."
The Stevie Awards for Sales & Customer Service are the world's top honors for customer service, contact center, business development, and sales professionals. The Stevie Awards organizes eight of the world's leading business awards programs, also including the prestigious American Business Awards® and International Business Awards®.
About ConnectiCare
ConnectiCare is a leading health plan in the state of Connecticut. ConnectiCare has been dedicated to making Connecticut a healthier place to live and work since the company was founded in 1981. ConnectiCare has a full range of products and services for businesses, municipalities, individuals and those who are Medicare-eligible and leads the individual market in the state. ConnectiCare subsidiary, WellSpark Health, is a national wellbeing, disease prevention and management company. ConnectiCare is part of the EmblemHealth family of companies. For more information, visit connecticare.com.
About The Stevie Awards
Stevie Awards are conferred in eight programs: the Asia-Pacific Stevie Awards, the German Stevie Awards, the Middle East & North Africa Stevie Awards, The American Business Awards®, The International Business Awards®, the Stevie Awards for Great Employers, the Stevie Awards for Women in Business, and the Stevie Awards for Sales & Customer Service. Stevie Awards competitions receive more than 12,000 entries each year from organizations in more than 70 nations. Honoring organizations of all types and sizes and the people behind them, the Stevies recognize outstanding performances in the workplace worldwide. Learn more about the Stevie Awards at http://www.StevieAwards.

Harvard Pilgrim Health Care Named #1 Best Place to Work in Connecticut
Harvard Pilgrim Health Care was named the #1 Best Place to Work in Connecticut 2021 in the large group category. This fifteenth annual program was created by the Hartford Business Journal and Best Companies Group.
This survey and awards program was designed to identify, recognize, and honor the best employers in Connecticut, benefiting the state's economy, workforce, and businesses.
"We are honored that Harvard Pilgrim Health Care has been recognized as "The Best Place to Work" in Connecticut," says Paul Bartosic, interim regional vice president for Harvard Pilgrim's Connecticut market. "Our entire team works hard every day to create an environment where our employees feel that they can bring the best of who they are to work each day. Our Connecticut team is an incredible group of diverse and talented individuals whose dedication to the members and communities we serve is awe inspiring."
For more information on the Best Places to Work in Connecticut program, visit www.BestPlacestoWorkinCT.com.

Tighe & Bond Receives 2021 ACEC/CT Engineering Excellence Award
Upgrades at Plainville Water Pollution Control Facility Protects Connecticut's Water Quality
Tighe & Bond was recently recognized by the American Council of Engineering Companies of Connecticut (ACEC/CT) with an Engineering Excellence Award. The project team received the award for the design of phosphorous removal upgrades at the Water Pollution Control Facility (WPCF) in Plainville, Connecticut.
The Connecticut Department of Energy and Environmental Protection (CT DEEP) set new phosphorous limits after it was determined the nutrient was negatively affecting water quality in the state's freshwater rivers and streams. While phosphorus is a naturally occur­ring element that is an essential nutrient to support plant growth, excessive amounts contribute to dense growth of algae and suffocation of marine life. This meant that the Plainville WPCF needed to reduce the amount of phosphorous leaving the facility by 88 percent. In anticipation of these changes, Tighe & Bond prepared a Phosphorus Removal Plan to determine how best to meet the new phosphorus limits.
The plan recommended the addition of a Filter Building that would house new multi-point chemical addition and disc filtration processes to reduce the amount of phosphorous from the facility's water. The design also included cost-effective improvements to the existing WPCF including a larger sludge processing system, raising the facility's existing UV Disinfection System for improved flood resiliency, new flow equalization tanks to stabilize the effluent from the facility's Sequencing Batch Reactors (SBRs), and filter influent pumps to lift the flow up to the disc filters.
The project was completed four months ahead of schedule and $1 million under budget. The upgrades have enabled the Town of Plainville to meet its phosphorous limits. The new system continues to remove phosphorus from the treated water the facility discharges daily into the Pequabuck River which joins the Quinnipiac River and Long Island Sound. The renovations to the WPCF also meets all state and federal environmental regulations and ensures the protection of surrounding bodies of water.
Tighe & Bond and their project partners will be honored at the ACEC/CT Engineering Excellence Awards Gala in June 2021.
Tighe & Bond

Tighe & Bond is an employee-owned, multi-disciplinary consulting firm in the Northeast specializing in water and wastewater engineering; site planning and landscape design; full-service engineering for real estate development; infrastructure improvements; and environmental consulting services. For more than a century, innovative thinking and exceptional service have been at the core of Tighe & Bond's work. Tighe & Bond's experienced professionals provide concept-to-completion expertise to comprehensively address client needs. By focusing on bright ideas, green strategies, and clear solutions, the Tighe & Bond team develops creative, collaborative responses to complex challenges.

Vista Life Innovations Receives 4,000 Mask Donation as part of the Rotary "Million Mask Challenge Tour"
On Thursday, December 10, Vista Life Innovations was honored to receive a donation of 4,000 disposable masks from the Rotary Club of Madison as part of the Rotary "Million Mask Challenge Tour."  Vista will use these masks in its mission to support the personal success of individuals with disabilities.
Madison Rotary Club President Scott Beckwith and Rotary member Michael Perry met with Helen Bosch, Vista's CEO, to deliver this impactful donation. Perry explained the Rotary Club's motivation: "Because of COVID-19, we know that there are many problems that our community services, business, and not-for-profits have not budgeted for in the past. Anything that we can do to help them meet these needs during these difficult times is a benefit to them and all the good work they do in our community."
The donation was part of the Rotary "Million Mask Challenge Tour," a campaign in which Rotary clubs across Connecticut and New England have been distributing disposable face masks to help prevent the spread of COVID-19. In addition to Vista, the Rotary Club of Madison has also given masks to local organizations such as the American Legion and the Madison Police Department.
As a longtime supporter of Vista, Perry was excited to have Vista receive this donation: "One of the things that has always inspired me about Vista is that they work with people to help them to understand their abilities, something we are all striving to do. We see how Vista helps so many people, which helps our community grow as a whole."
The Rotary "Million Mask Challenge Tour" started with Ted Rossi of Rossi Lumber and the Rossi Foundation, and former Rotary District Governor Jack Solomon. After Rossi's idea for an initial 30,000 mask donation expanded into a 200,000 donation, the two began planning the "million mask" donation campaign. Together, their vision has been impacting local organizations ever since…
-###-
For more information regarding the Rotary and its mission, please visit www.madisonctrotary.com
Vista Life Innovations is a 501©3 nonprofit organization with campuses in Madison and Westbrook. Vista's mission is to provide services and resources to assist individuals with disabilities achieve personal success. For more information about Vista, please visit www.vistalifeinnovations.org.
Chelsea Groton Bank and Foundation Together Gave Record $1,000,000 this Year
Following Foundation's Approval of Over $400,000 in Grants this Fall
GROTON, Conn. – This year, Chelsea Groton Bank and its Foundation provided more than $1,000,000 to non-profit organizations in our communities. The Foundation recently approved $405,820 in grants to 68 non-profit organizations from Connecticut and Rhode Island, which put the full year's giving total above the $1 million mark for the first time ever. Earlier this year, the Foundation swiftly responded to support emergency relief efforts as well as needs across all giving categories in the wake of the pandemic, making the unprecedented decision to double the usual amount of total funds granted in a calendar year.
Half of the Foundation's approved funding this fall went to organizations providing Health & Human Services, including immediate critical needs such as healthcare, food, clothing and shelter. A grant donation of $25,000 was provided to Lawrence & Memorial Hospital for urgent needs due to the pandemic, and grants of $15,000 each were given to Salvation Army New London for the Boys and Girls Club of New London and COVID-19 Food Pantry, Salvation Army Norwich for their emergency assistance program and St. Vincent de Paul Place for their food pantry.
The Foundation also granted $30,000 to the Garde Arts Center in New London, enabling them to receive an additional $15,000 through the CT Dept. of Economic and Community Development. In addition, the Bank gave over $80,000 in sponsorships and grants for local teachers to use in their own virtual or in-person classrooms for educational activities with students.
"Our organization's roots are in this community. We knew there was no time more important to figure out a way to help people than in this time of great need. We're fortunate to have a Foundation and a commitment to community giving that can have such a positive impact on organizations in desperate need of support," shared Michael Rauh, President and CEO of Chelsea Groton Bank, and President of the Chelsea Groton Foundation. "We are committed to doing whatever it takes to support the non-profits in our area who make the community the wonderful place it is."
"When faced with these unique times, the Chelsea Groton Foundation Board responded by temporarily adjusting guidelines in order to provide financial support to more organizations in need. We are proud to give to organizations that support basic human needs – hunger, homelessness and healthcare – as well as those that provide education, economic growth, arts and cultural experiences, and more, especially in this great time of need."
For a fourth consecutive year, the Foundation has also made a significant grant commitment – $50,000 in 2020 – to Norwich Community Development Corporation (NCDC) for Global City Norwich, in order to train entrepreneurs and create a thriving downtown environment that will ensure increased traffic in area businesses.
The Foundation typically reviews applications and awards grants two times per year. Organizations who support critical needs are invited to apply for additional funding this year if needed, through the application on the Bank's website, chelseagroton.com/CGFoundation.
Each year, Chelsea Groton Bank and the Chelsea Groton Foundation support more than 300 local organizations through monetary gifts, grants, sponsorships, scholarships and employee volunteerism. More information, including a list of all fall grant recipients, is available at chelseagroton.com/CGFoundation.
About the Chelsea Groton Foundation
The Chelsea Groton Foundation was formed in June 1998 as a Section 501(c) (3) organization. Initially endowed with a $2 million donation from Chelsea Groton Bank, the Foundation has, to date, awarded over $4.4 million in grants to hundreds of scientific, educational and charitable organizations located within the Bank's market area. To learn more, visit: chelseagroton.com/CGFoundation.
About Chelsea Groton Bank
Based in Groton, Conn., Chelsea Groton Bank is a full-service mutually owned bank with over $1.4 billion in assets. Chelsea Groton Bank's products and services include consumer banking, business banking, mortgage and business lending, cash management, financial planning and financial education programming. With 14 branch locations throughout New London County and a Loan Production Office in Hartford County, Chelsea Groton Bank also provides online and mobile banking, 24-hour telephone banking, and nationwide ATM banking for individuals, families and businesses. To learn more, please visit chelseagroton.com. Member FDIC. Equal Housing Lender.
KeyBank continues its market growth with new hires in private banking, business banking and investment services!

NEW HAVEN CT, Nov. 12, 2020 —   As part of its continued growth strategy throughout Connecticut and Massachusetts, KeyBank announced today more new hires and promotions across its business lines serving consumers, businesses and communities in the region.
"This is a growth market for KeyBank, and while other banks in the area might be cutting back, we are continuing to hire and invest in talent," said Connecticut and Massachusetts Market President James R. Barger. "With so many families and businesses dealing with this pandemic and its economic effects, it is important to Key to have the resources to help customers, companies, and communities re-build their financial wellness."
The following new bankers have joined Key Private Bank, one of the premier private banks for affluent individuals and their families:
John Jezowski has joined Key Private Bank as Wealth Advisor, responsible for the coordination of financial planning, investment management, tailored lending, fiduciary services, and private banking for clients throughout Connecticut and Western Massachusetts.  Prior to Key, he spent 10 years as a senior private banker and relationship manager with Webster Private Bank.  Before Webster, Jezowski served as a financial advisor with Merrill Lynch Wealth Management, and a relationship manager with Wachovia Wealth Management.  Previously he managed his own privately held mergers & acquisition/investment banking firm.  Earlier in his career, he held corporate development and special projects positions in the specialty chemicals industry with Henkel Loctite and W. R. Grace.  Jezowski holds a B.S. in Chemistry from Worcester Polytechnic Institute and M.S. in Finance from Rensselaer Polytechnic Institute.  He has served in leadership roles with several community-based charitable nonprofits, including the New Britain Museum of American Art, Easterseals, Open Hearth, and Estate & Business Planning Council of Hartford.  He resides in Wethersfield.
Chelsea Brochu has joined Key Private Bank as Senior Experience Manager.  She will lead the Hartford team of client experience associates responsible for ensuring delivery of the Key Private Bank client experience and  maintaining and helping to grow client relationships through a proactive focus on meeting client needs for financial planning, investments, trust, banking and client services.  Prior to joining Key, Brochu spent two years with MassMutual Trust Company as a relationship managr.  Before that, she was a wealth strategies analysts with U.S. Trust.  Brochu holds a B.A. from University of Vermont, and a J.D. from Western New England University.  She lives in Glastonbury.
Geoffrey James was promoted to Key Private Bank's Wealth Development Partner, responsible for driving cross-business development between Key's Connecticut and Massachusetts branch network and the private bank.  James joined KeyBank in 2017 as branch manager for the bank's North Branford branch.  Prior to joining Key, James spent more than four years with Wells Fargo Advisors, most recently as a financial advisor, as well as private banker and licensed banker.  He began his career as a financial representative with Northwestern Mutual.  James hold a B.A. from Morehouse College in Atlanta, GA.  He is actively involved in the community, including providing financial literacy workshops and other volunteer activities.  He resides in Trumbull.
KeyBank's Business Banking team, which serves businesses with annual revenues ranging from $3 million to $25 million, also announced the following new hire:
Brandon McGoldrick has joined Key as a Senior Business Banking Relationship Manager for the Greater Hartford area.  In his new role, he will expand existing client relationships and generate new business banking opportunities through new client relationships. Prior to Key, McGoldrick spent 19 years with Bank of America in a variety of roles, including business banker, middle market credit underwriter and private client group financial analyst. McGoldrick holds an B.A. from Trinity College. His community activities include Habitat for Humanity, Connecticut Food Bank and serving as a board member and resource development chair for the Boys and Girls Club of Meriden.  He lives in Durham.
Finally, Key Investment Services® has promoted Bonnie Addison to the position of Market Sales Leader.
In this role, Addison is responsible for implementing a market sales strategy and leading a team of financial advisors who provide investment products and services to clients in Connecticut, Massachusetts and New York.  She has been with Key Investment Services for 14 years and has more than 30 years of experience in the banking industry. She began her career with Fleet Investment Management, which was part of Fleet Bank and later became Merrill Lynch/Bank of America.
In addition to the above, KeyBank Commercial Banking previously announced the hiring of Senior Commercial Bankers David Ott and Sasha Stein to its Middle Market Banking team in the greater Boston area.
Root Center for Advanced Recovery Donating to St. Vincent de Paul Soup Kitchen in Middletown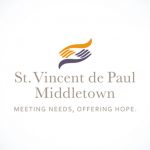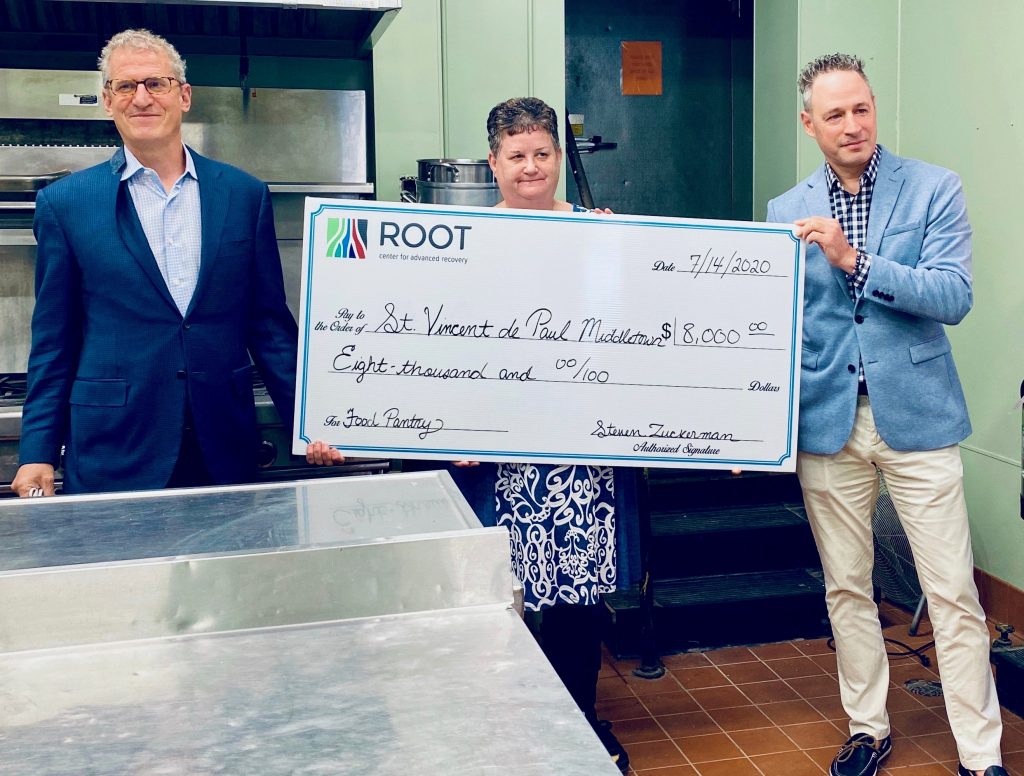 What: Root Center for Advanced Recovery will present an $8,000 check to the St. Vincent de Paul food pantry in Middletown to support the effort to fight hunger amid the COVID19 crisis. The pantry serves over 25,000 meals each month to residents in need, and Root Center's donation will cover food cost for one month.
When: Tuesday, July 14, 2020, 10:00am
Where: St. Vincent de Paul, 617 Main Street, Middletown, CT
Interview/photo ops:
- MaryEllen Shuckerow, Executive Director, St. Vincent de Paul
- Brain Swan, Board President, St. Vincent de Paul
- Steven Zukerman, President and CEO, Root Center for Advanced Recovery
- Bruce Simons, Board President, Root Center for Advanced Recovery
About Root Center for Advanced Recovery (Boilerplate)
Hunger hits our community at its core. It impacts everything, undermining feelings of safety and security and creating strain in families and communities. The Root Center for Advanced Recovery recognizes the critical role that food security plays in our patient's everyday lives, and for this reason, we are partnering with the St. Vincent de Paul Food Pantry and donating $8,000 to help address hunger in the Middletown area. We believe that sharing our strength empowers communities and fosters lasting, positive change.
Root Center for Advanced Recovery is a holistic behavioral health center, headquartered in Manchester, CT, that serves over 5,500 patients each day. Root Center offers an array of treatment services for adolescents and adults with mental health and substance use disorders; services include medication assisted treatment, intensive outpatient programming, and outpatient therapy services. Root Center began serving the community in 1871, and continues to create relationships that empower clients and support change. Center locations include Bristol, Hartford, Manchester, Middletown, New Britain, New London, Norwich, Torrington, and Willimantic.